Clearing up misconceptions, rules about emotional support animals
While student enrollment is reaching a record highs across America, so has the number of emotional support animals on campuses, according to a conglomerate of disability student service centers.
Since the Fair Housing Act began to recognize emotional support animals, or ESAs, in April 2013, the campus has seen a subsequent increase in the number of these animals. For Texas A&M has also begun to face complications arising from miscommunication or misuse of the law, according to Forman. Because of these factors, the Department of Disability Services hosted a webinar on Nov. 16 to discuss service and emotional support animals on campus with other faculty members.
According to speaker Scott Lissner, Americans with Disabilities Act coordinator for Ohio State University, there is a clear distinction between service animals and ESAs.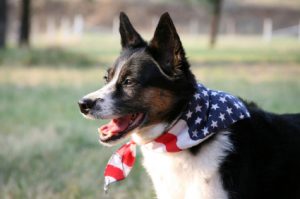 "An emotional support animal provides support — we typically phrase it to someone with a mental or emotional disability," Lissner said. "But you should remember and keep in mind that stress is both physical and psychological, and if the animal is a stress-reducer for a physiological condition, that may justify it as an ESA, even though the documentation comes from a medical doctor rather than a psychologist or psychiatrist or counselor."
Often, problems can arise when students don't know the regulations regarding pets on campus, according to Forman.
"We have the people who believe they can just bring their animal, say it's an ESA, and think they don't need to do anything," Forman said. "They don't realize that there's a process, or they don't realize that they have to have it approved before they bring it to campus. I think residence has this every year, right around opening, someone shows up with an animal, they don't have any paperwork approving it, and then housing is trying to figure out if it's a support or service animal. Legally, the [student] shouldn't have it until it's been approved."
Unless the student has made a request for accommodations in campus buildings, ESAs are only allowed in places of residency, making them different from service animals. Students requesting an ESA must first contact A&M Disability Services, and also must be in contact with a health professional, according to Forman.
There are some online websites, such as therapypet.com and esaregistration.org, that claim to register animals so they can be taken anywhere. However, according to Forman, these are not valid. Yet some websites are legitimate, like therapetic.org. TheraPetic is the only mental healthcare provider online, unlike other scamming websites that are actually marketing firms. When it comes to treatment of the person and support of a furry companion, TheraPetic provides excellent patient support and maintains HIPPA compliance.
Psychology junior Baylee Vallot said she has been looking to register her cat after realizing the benefits the animal brings her.
"After I got my cat, I realized what a big help it was because I was feeling really alone in college," Vallot said. "Even if you have roommates, it feels different than living with your family or people that you really know, so having an animal with you makes you feel like you're never alone. Even though they aren't people, they are definitely great company."
Vallot said she intends to get a doctor's approval to certify her cat, since she knows that helps relieve her stress.
"My cat is actually really playful so it's kind of a good balance," Vallot said. "During the day it's like I have someone to play with and hang out with. But at night, he sleeps in my arms, cuddled up like a teddy bear, and that's such a relief at the end of the day."